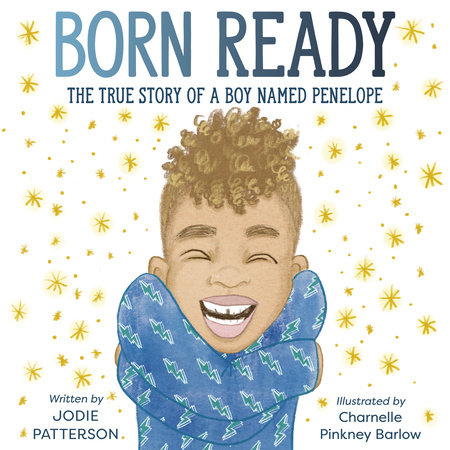 Like many picture books about transgender or nonbinary youth, Born Ready: The True Story of a Boy Named Penelope (2021), is written by the mother of a transgender child. Author, Jodie Patterson, and illustrator, Charnelle Pinkney Barlow, create a celebratory picture book that introduces readers to Penelope, a young Black boy who knows two things for sure: 1) he's a ninja and 2) he's a boy.  
The story unfolds in the first person, which gives readers a quick sense of intimacy with the protagonist-narrator. To further develop this connection, Barlow often uses thought bubbles alongside images of Penelope, so readers can see him as he sees himself. For instance, the text opens with an image of Penelope in a flowing pink blouse speckled with stars. A though bubble depicts Penelope as he imagines himself, with a mohawk and wearing blue. The complicated image of two Penelope's is paired with text in which Penelope asserts he is a ninja, describes ninjas, and begins to explain some of the challenges that arise from being named Penelope. Readers are immediately made aware of Penelope's discomfort being perceived as a girl as well as his self-knowledge that he is a boy.
Throughout the picture book, Barlow continues to provide readers windows into Penelope's psychic life by incorporating meaningful visual depictions of how Penelope sees himself, and wants to be seen, in thought bumbles. Some of the thought bubbles incorporate text to further reveal Penelope's unvoiced thoughts, including the following statement: "I. Am. A. Boy." This clear and deliberate assertion is placed very early in the text, but it takes several pages for Penelope to articulate his feelings to his mother.
Penelope shares his self-knowledge with his mother as the two of them sit, facing each other, on the floor of his bedroom. In many picture books, drawings, dreams, and even bedrooms, provide readers access to the self-image and unspoken desire of queer youth. This book is no exception.
Penelope's mother is exceptionally supportive.
She helps him share his news with family members, including one of his grandfathers, who is visiting from Ghana to celebrate Penelope's birthday. His supportive grandfather explains: "'In my language of Twi, gender isn't such a big deal. We don't use gender pronouns.'"
Throughout Born Ready: The True Story of a Boy Named Penelope, text and illustrations work together to give a sense of cultural and familial specificity.
My favorite part is when Penelope's brother is angry and confused after he begins to socially transition. The children's mother explains: "'Not everything needs to make sense. This is about love…'"
Jodie Patterson produces a heartfelt book we can all learn from and enjoy.
This is a delightfully joyful celebration of a young boy who is enveloped in love and support. It's the perfect read for young children regardless of gender identity or previous exposure to LGBTQ+ identity and culture. It's certainly a welcome addition to the handful of picture books about transgender young people that are already on my bookshelf.