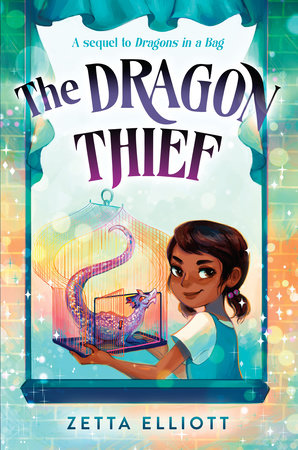 The Dragon Thief is Zetta Elliott's follow-up to her middle-grade urban fantasy novel Dragons in a Bag. Elliott's second installment picks up where the first book in the series left off, taking readers on a fantastical journey through the culturally diverse streets of New York City as children and elders work together to bring balance to material and magical realms by returning a not-so-little dragon to its home and family.
Dragons in a Bag is told from the point-of-view of Jaxon, a clever and kind boy who discovers magic for the first time and learns to be courageous in the face of otherworldly adversity. Jaxon remains an important character in The Dragon Thief, but he is joined by Kavita, his best friend Vik's little sister. In Dragons in a Bag, Kavita stole one of the three baby dragons Jaxon was supposed to transport to the magical realm, so he can only transport two dragons. Because of this, his mission is incomplete. In The Dragon Thief Jaxon struggles to find the third dragon so he can keep it safe and reunite it with its family.
Kavita truly loves and feels responsible for the dragon she stole. Unbeknownst to Jaxon, she is also working to get it home. Kavita is assisted by Aunty, an older woman who lives with her family. This continues the theme of intergenerational collaboration introduced in Dragons in a Bag.
Kavita's family is Indian and Aunty is Siddi, an ethnic group in India originally descended from East Africa. Cultural diversity and cultural specificity are as central to the text as the whimsy of magic and the mayhem caused by poor communication and good intentions gone awry.
Meanwhile, Jaxon and Vik team up with a boy named Kenny they assumed was a bully because of his size. It turns out Kenny is a loyal friend and invaluable helper as they work to save the third dragon and return balance to the universe.
Dragons in a Bag and The Dragon Thief are an amazing pair of middle-grade urban fantasy books sure to entice even the most reluctant readers. Elliott subtly engages important themes with grace and humor while spinning a tale that reminds us all there is more magic in the world than we often realize.