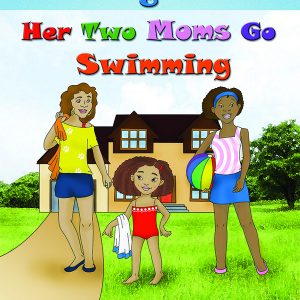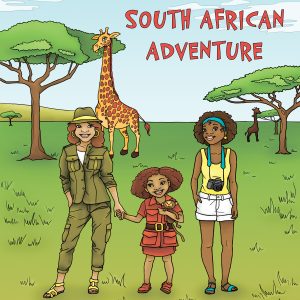 I want to introduce readers to a small press worth following – My Family!/Dodi Press. My Family! specializes in reading material featuring diverse lesbian and gay parents swimming, vacationing, and preparing for science fairs with their happy children. The fact that the families are headed by same-sex parents is clear but not a theme explored.
Monica Bey-Clarke and Cheryl N. Clarke, the life partners, business partners, and co-writers running My Family! describe their goal as "creating a multi-cultural, positive and affirming library of children's books that feature LGBT families." They have succeeded and I think parents, educators, and librarians should take note. Along with books, My Family! offers diverse, LGB-inclusive coloring books and a board game.
A young black girl named Keesha and her two brown-skinned moms are featured in several books by the Bey-Clarke and Clarke, including the 2010 publication Keesha and Her Two Moms Go Swimming.
Keesha and Her Two Moms Go Swimming is a simple snapshot of a family's day at a public pool. The book introduces readers to different family forms. For instance, Keesha's best friend Trevor is at the pool with his two dads. It is a simple story with no major conflicts, which is refreshing in an LGB children's picture book!
Keesha's South African Trip is of a far better production quality. Although published six years after Keesha and Her Moms Go Swimming, Keesha seems to be about the same age. Her friend Trevor is reintroduced. The two children go to school together and learn about South Africa. Keesha is so excited she tells her moms all about what she learned and asks if they can go on a safari in Africa. They surprise her with the best birthday present ever – a trip to South Africa.
In South Africa, Keesha is introduced to new food and customs. She also gets to see some of the animals she learned about in school. When the family returns home, the bubbly and confident Keesha tells her class all about her adventure. Like Keesha and Her Moms Go Swimming, in Keesha's South African Trip, Keesha is clearly a child with two mothers, but this fact is not commented on.
Keesha's South African Trip is very engaging and warrants several reads. I appreciated the inclusion of South African foods and animals native to the region. It will be fun for young children, and many will appreciate the repetition of characters across texts in the two books.
The Keesha Series certainly serves an important niche in the LGB community and will be appreciated by many families for providing snapshots of same-sex couples parenting happy healthy children. Most books I come across with LGBT characters and themes deal with issues of inequality, shame, confusion, and bullying. It is important to be able to add books to the bookshelf that include lesbian and gay families without turning sexuality into a source of conflict.
This review is part of my "Snapshots of LGBTQ Kid Lit" project. I'm working on a book, The New Queer Children's Literature: Exploring the Principles and Politics of LGBTQ* Children's Picture Books, which is under contract with the University Press of Mississippi. Part of my research is identifying and interpreting English-language children's picture books with LGBTQ* content published in the US and Canada between 1979 and 2019. Follow my blog to follow my journey!