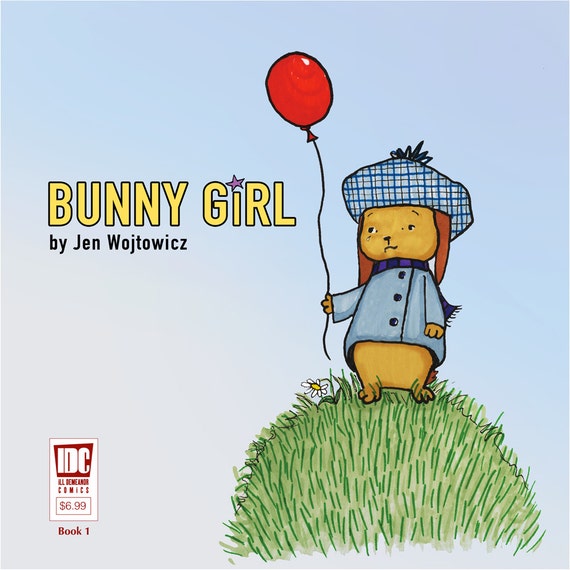 Jen Wojtowicz's thin square-shaped comic Bunny Girl feels like home and reads like a broken heart doing the hard work of healing. On the cover, a sweet little bunny with brown fur holds a red balloon as a single tear drops from her eye. The dedication on the inside of the cover reads: "For My Husband and Our Children." The story that unfolds is deeply personal and its creation was clearly a labor of love. A note on the inside back cover explains that the comic is "about love transcending death and our continued relationship with those we love who are in spirit." Bunny Girl explores grief from a child's perspective, that of Wojtowicz's eldest daughter who lost her little sister, and it does this work beautifully.
I am a strong proponent of using cultural texts like comics to prompt discussions about difficult topics, in this case grief, with young readers. We should give children the dignity of complexity, and more than anything, Wojtowicz's deep respect for her children permeates the pages of Bunny Girl. She takes her oldest daughter's feelings seriously and uses her family's experience with loss to write a mesmerizing text about managing grief and living with spirits.
Wojtowicz tells her story through images. At points she uses traditional comic techniques like panels and tiers to depict action and emotion. At other points, her cartoonish art reflects snapshots and family scrapbook pages. The characters are represented as bunnies, and the protagonist, who the story is focalized through, is named Bunny.
At the beginning of the story, Bunny is infatuated with babies. In one series of images, she is shown playing in a sandbox while several panels depict close-ups of babies. Thought bubbles hovering over Bunny's head also portray images of infants. In another series of images, Bunny takes care of Michie, the family dog, as if he is a baby, even putting the small dog in a stroller. Perhaps the most telling image of Bunny's desire for a sibling is a snapshot of her standing over a birthday cake blowing out a candle in the shape of a "2." Her birthday wish is for a baby.
Michie is constantly present, a staple in Bunny's early life. However, loss is gently but decisively introduced when Michie gets sick. The family bring the dog to a veterinary hospital but leave the hospital sans dog. The small family grieves together, working to create a comfortable resting place for Michie and burying the dog in their yard.
The death of the family dog encourages a discussion about loss. In a series of panels, Bunny and her mother have a conversation that the reader can only access in images. Bunny's mother seems to suggest that Michie is now an angel in heaven. A winged Michie floats on a sea of clouds. After their conversation, Bunny draws Michie surrounded by pinkish-red dots, and that night she dreams of Michie, not winged, but surrounded by an aura of glitter.
Bunny soon learns that her mother is pregnant, and her head fills with thoughts of being a big sister. A set of panels mark the passing of time, March through September, as Bunny imagines playing with a young sibling and as her mother begins to prepare for another child. But, the excited preparations come to a halt in a series of panels that depict Bunny's mother experiencing a headache and dropping Bunny off at her grandparents where she contentedly spends time until she begins missing her parents.
The next day her father arrives at her grandparents. A series of panels depicts young Bunny's face as she greets her father. Her expression changes from joy to deep pain as tears spill from her eyes and she clutches tightly to her father.
Sparse text marks the passing of time: "nine days later." In the sequence that follows Bunny stands above a small pink coffin, the legs and torsos of adults frame the image of the funeral. Other panels barely contain mourners.
Time passes, images of a joyless Bunny appear in panels labeled with the names of months vaguely reminiscent of a personalized calendar. In one image, Bunny is depicted with tears in her eyes imagining herself climbing a ladder into the clouds where the sibling and pet she lost wait for her.
One day Bunny sees a program about Thai spirit houses and works on creating one for "Sissy," a project her parents soon participate in. Having a material reminder of Sissy seems to help Bunny. In fact, soon after, Bunny rediscovers a photo album with images of her sister and requests her father hang a family photo on the wall.
Grief does not dissolve; it becomes more manageable. A year after Sissy's death the family gather at her grave with flowers and balloons. The next day, Bunny and her mother are at a park when Bunny is upset by a girl her age in a "big sister" t-shirt.
That night she dreams of her baby sister with wings and a sparkly aura playfully poking and sweetly cuddling her. Bunny follows Sissy into a dream-realm of hypnotic patterns and winged pets and people. This spiritual realm is depicted as joyful with flowers, butterflies, a unicorn, and even an appearance by Michie, the family dog. When Bunny wakes up she is smiling, and she shares her experience with her parents.
The image on the back cover is of Bunny, releasing the red balloon.
The lack of words and frequent warm arrangement of images, as if in a family photo album, give the text a sense of intimacy and only partial exposure, as if much remains unsaid, still private. Even more, the focus on images over words, which only ever mark the passage of time, give Bunny Girl a meditative quality, as if reading it is a healing exercise, to be moved through diligently, with respect for the weight of the story.
I enjoyed the inclusivity of Wojtowicz spirit realm, inhabited as it was by veiled Muslims, turbaned Hindus, and a cast of other diverse characters. I interpreted it more as speculation that certainty. I also appreciated how this small family of bunnies pieced together their own spiritual truth and kept the spirit of their little girl present.
This comic truly is a gift. It's a gift Wojtowicz gives to her family and a gift she gives to her readers. I recommend the text to families with young children who need a prompt to discuss experiences of loss. The text is image-based encouraging young readers to tell their own stories. It is also appropriate for older children and families working to create their own spiritual practices to manage grief. Bunny Girl is a beautiful story; it stings but it also calms, gorgeously capturing challenging emotions and finally releasing.
Bunny Girl can be purchased directly from the creator's Esty Shop.
Jen Wojtowicz is also the author of The Boy Who Grew Flowers available from my Barefoot Books Storefront.
*** Disclosure: Jen Wojtowicz provided me with a review copy.